Todhor
Slippers are completely handmade therefor the production time is 2 working days and the delivery time with DHL Express 2-3 working days. Because we use only 100% natural wool, a slight difference in colour is possible.
About Todhor Slippers
Slippers Todhor are different and remarkable. Think extraordinary, timeless and everlasting and you will get Todhor. When we talk Todhor, we talk about extremely comfortable slippers that are unique because of their workmanship and appearance. There is a hole at the thumb on each slipper, which makes these slippers incredibly special. With them you will surely surprise even the most demanding someone. Remember Giants – the monsters of human appearance, but prodigious size and strength, common in the mythology and legends of many different cultures? They are described as an imaginary or mythical being of human form but superhuman size.  You can not do anything else, but notice them each and every time. What we find important, related to giants, is the fact, that they inspired the look of Lowul Todhor Slippers. Todhor Slippers are very robust from the outside (someone might say they look gigantic), but still incredibly comfortable  and soft at the same time. Combination of both that will surely satisfy every user. Because we wanted these Slippers to look as firm as possible, we use special, very hairy wool to produce them. That makes them even more robust. What's most important – that does not affect their comfortness and uniqueness. You know the saying, that you will notice that "the giants, wherever they come from, have one thing in common: the way to overcome them is to use your wits". That all goes in favor of Todhor, too. Not every person can attract them, only those who are capable of being different from all others and wants to stand out. So, if you are the one looking for something as different as that or you know someone else who wants others to look up to him and wants to be a hero in somebodies eyes, then Todhor is the exact thing you have been looking for. Do not hesitate, you will and they will adore them.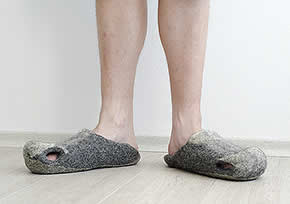 Additional information
| | |
| --- | --- |
| Weight | 1 kg |
| Dimensions | 43 × 17 × 13 cm |